Writing is Strange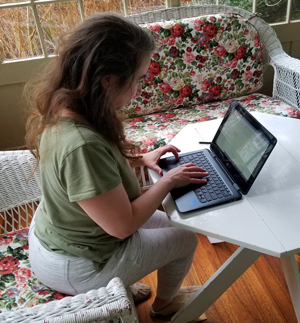 I heard from a writer friend the other day who really wanted to take me up on an invitation except that, as she put it, her new book was trying to kill her.
Writers live a strange life, and they also tend to be good comedians.
But in this case I knew what she meant.
I shy away from "there are two kinds of X" breakdowns because I think they oversimplify matters. You know the ones I mean—there are two kinds of pet lovers, dog and cat. There are two kinds of emotional eaters, sweet and salty. What if you love a great big Husky and a cute wittle kitty? What if you take your potato chips with chocolate?
But in writing this holds true from what I've seen. There are two kinds of writers.
The kind who love writing. And the kind who love having written.
I've always been the former. I go all around the country on book tour and say how for me writing a novel is like Christmas morning, meeting my husband, having my kids after the painful birth part, and a giant sprinkle frosted cupcake all rolled into one. I get a goony smile on my face, describing it.
When I am writing a new book, I am exhilarated. I float from my she-shed where I write back to the house to get a snack (salty or sweet). I fly. Writing is one of the most thrilling experiences I have. My books concern women taking the reins of their lives back, and when I get to live as one of them, I feel pretty powerful myself.
That was true for my newest book too.
However, in the words of my funny author friend, it also tried to kill me.
In the next month or so I'll tell you what's happening next.
Welcome New Subscribers and...Our Winner!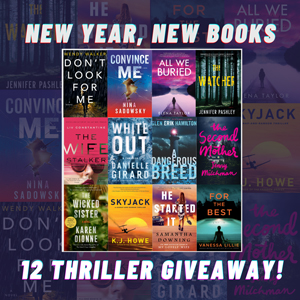 Congratulations to book blogger/reviewer, Summer E., of Summer Reads for winning this giveaway sponsored by the great Nina Sadowsky and Wendy Walker. Follow Summer on Instagram and big thanks to everyone who entered!
I am so happy to connect with this wonderful group of readers. To say thank you, any subscriber—new or longtime friend—who writes after reading this letter will be entered to win a potluck surprise hardcover from me!
Some advice for writers

CC Harrison is a mystery author who asked five authors, Where do you get your ideas? Read the answers in When the Lightbulb Goes Off
It's a Rogue-ish Scavenger Hunt

One of the most fun things I've done during the pandemic is become a Rogue Women Writer and one of the most fun events sponsored by the Rogues is Rogue Reads. A monthly Zoom chat featuring four authors with new books out, we have talked to some truly amazing talents, and lineups to come take my breath away.
Here are clues about guests for the upcoming season! Can you guess any of them?
Featured on this list I compiled for my last Rogue blog post, this author shines a light on millennial life and how youth hides a seamy side. Dun dun dun!
Had a hit HBO series last year based on one of her novels!
Movie based on one of his books starring the great Denzel Washington!
#1 NYT bestseller who introduced a new female heroine for a brand new series!
Also a NYT regular, he comes up with riveting plots with a wilderness backdrop!
Discover a Debut Mystery Author

I've been given so much support along this writing road—an author helped me get published. And I've always longed to be in a position to help other authors in kind. One thing I love to do is support debuts and their new releases.

Please join me on March 10th at one of the World's Longest Book Tour bookstores, Murder on the Beach in Del Ray, Florida, where I will be talking with physician and author Tammy Euliano when she makes her literary debut! Prizes for those who purchase books from MOTB—including, wait for it, writers—
A critique of your chapter or query letter!
In the Spotlight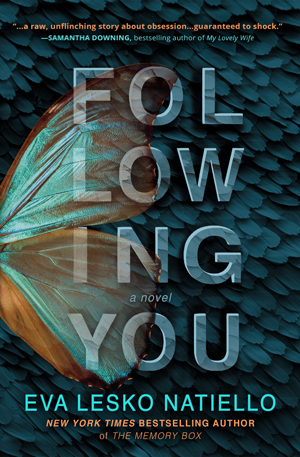 Is it possible to hit the New York Times bestseller list as an indie author? Eva Lesko Natiello proves you can!
In writing psychological thrillers, I'm fascinated by misconceptions. Not only can misconceptions be destructive, but they are frighteningly easy to forge—taking just a few seconds to conceive, and sometimes held onto for a lifetime.

In  FOLLOWING YOU a stalked celebrity goes missing. A harrowing encounter lands her in the wrong place at the wrong time, forcing her to make a split-second decision. She trusts her gut and it's a devastating mistake.

This idea, "the lens through which we look, shapes the way we see," is what directed the cover design. Although the butterfly triggers deeply personal reactions for the three strangers who narrate FOLLOWING YOU, it's the conceptual use that carries the theme. The butterfly wing rests on a background that looks like feathers, but amazingly it's the same butterfly wing under a microscope. When fear, paranoia and lies shape a judgment, it's easy to be convinced it's true.
A Temporary Fare-Thee-Well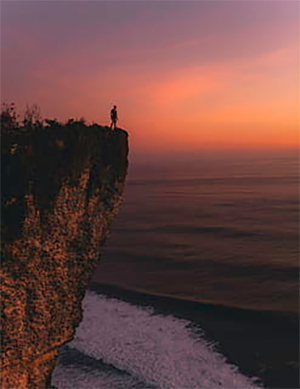 Writing a book is never really done. Even after it's published, it becomes a stream of words connecting reader to writer, forever flowing. And my new one has a ways to go before seeing the light of day—and web pages, book blogs, and bookstore shelves.
But I did write The End and now it's time for me to take another leap. Wish me luck in the air, dear readers and writers and friends.
I'll tell you next time where I land.
Love from the Hills of Wedeskyull,